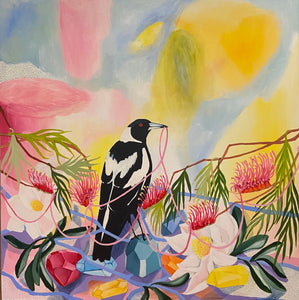 SOLD The first Sunrise
Regular price $1,286.00 Sale
I want to depict the tiny hidden gems all around us that we so often don't see because we're moving too fast. I am often so pre-occupied looking for the wow factor, having big goals....
I walk past all the precious little moments right beneath my feet ....reflecting on our Australian Indigenous Dreamtime story of the magpie letting in the light, reminds me to let more light into my own environment so I can see more clearly my precious surroundings.
I strongly believe in sharing our Dreamtime stories and teaching my girls the stories.
I thought I'd share with you the Dreamtime story of the magpie
Long time before today…
The sky covered the earth making everyone crawl around in the dark.
The Magpies, being proud and industrious, gathered and worked to raise the
sky so everyone could move about freely.
They gathered some long sticks and fighting hard they lifted the sky up.
They placed the long sticks on small and big rocks,
they fought to lift the sky even higher.
The sky split open, showing the beauty of the first sunrise.
They were so overjoyed to see the light and feel the warmth of the sun's heat,
they burst into song.
As they sang, the blanket of darkness broke and drifted away like clouds.
To this day the Magpies greet the sunrise with their joyful song.
Re-told by Uncle David Tournier
I have limited edition Archival art prints available of this painting in 3 different sizes on my website head to mixed media at www.clarewhitney.com/mixedmedia
#clarebwhitney #paintings #paintingoftheday #magpie #australianfaunaandflora #grevillia #magnolia #gems #canvas #exhibition #art #designinspiration #colour #studio #dreamtime #grandinteriors #exhibition #iloveart #crashbangcolour #pinkribbon #artoftheday #plants #indoorplantdecor #handpainted #originalart
Beautifully framed in a natural oak hardwood, ready for hanging.
Acrylic on Canvas
FRAMED
100cm x100cm